India is a strange land. A land of 2 extremes – one of them being those who create controversies out of thin air, heating up over nothing. The other being the vast bunch of part-time comedians, who resort to instant comedy whenever the first lot creates juicy controversies for them. This comic relief often manages to take the sting out of a possible snow-balling situation. Also, let's face it – they're really hilarious! 140 characters are no limit enough for them. Indeed, the Indian Twitterati is one hilarious gang who never fails to crack up, no matter how serious the situation. So today, on #WorldSmileDay, we bring you some of the most epic twitter reactions that will not only make you smile but will leave you in splits!
When the Chinese dragon threatens, just dish out some momos in its face!
Last month, amidst rising tensions between China and India on the backdrop of the Doklam standoff, the Chinese State TV issued a threat, saying they could "it would take country's motorised troops 48 hours and its paratroops 10 hours to reach India's capital if war broke out". You'd think any nation would be wary of such a military threat? Nope. Indian Twitterati was having none of that!
Slayed!  Oh boy, check these out - http://mashable.com/2017/01/16/china-claims-reaching-delhi-48-hours-india-twitter-reactions/#cUG93tDtziqM
Enter the dragon. Slay the dragon, GOT-ish Ishtyle!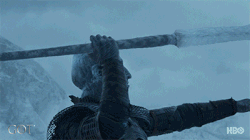 2) Kyuki Aditya Narayan bhi kabhi R Gaikwad Tha!
Cute kid Aditya Narayan may have set the ball rolling for World Smile Day this week with his hilarious, 2nd Std-ish "threat" which went like "Chaddi utaar dunga teri!". But the league of snobbish, ultra-powerful elite class who has mastered the tricks of this trade would say that only kids threaten like AN, legends threaten like R Gaikwad. The classic ol' chappal-uthaake-maarna!
And more - http://indianexpress.com/article/trending/trending-in-india/shiv-sena-mp-ravindra-gaikwad-assault-air-india-staffer-put-in-no-fly-list-twitter-reaction-4583628/
Guess who got the ultimate slap!
3) The Name is Nihalani. P***** Nihalani!
No words are enough to describe the sanctity of the great saint Pahlaj Nihalani. And that's only because he won't let us say anything at all without wanting to censor it. Talk about ***** me khujli. Or rather, don't talk about it. Instead, just one pic to describe him
So when he tried to make

into something like
by cropping his oh-so-vulgar kissing scene, Bond fans left Pahlaj Aloknath Nihalani shaken, not stirred.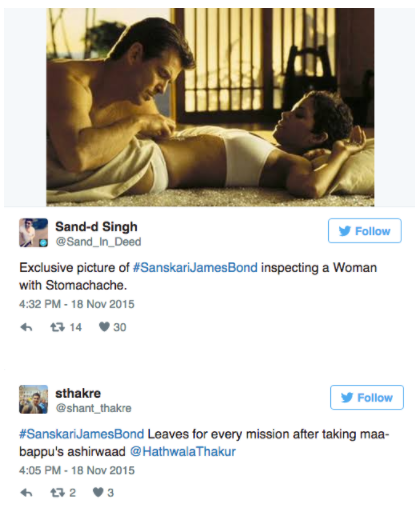 And lots more http://businessofcinema.com/hollywood/sanskari-james-bond-twitter-hilarious-reactions/250978
That's right. Maybe Sant PJ should fan away the burns like
Also, remember when he tried to do this
Nop. Not gonna spare that either!
http://indianexpress.com/article/trending/trending-in-india/twitter-reactions-to-udta-punjab-verdict-2850707/
4) Bhai se kabhi na #LePanga
Remember when the great, Dabanng Sultan was Wanted, but the judge wasn't Ready to Kick Bhaijaan into jail? Which case though, you wonder? Doesn't matter! For bhai cannot be sentenced!
So whether it's the black buck case…
https://twitter.com/search?q=%23salmankhanverdict&src=typd
http://www.news18.com/news/movies/twitter-reacts-to-salman-khans-acquittal-in-black-buck-poaching-case-1273683.html
Or the hit-and-run case…
http://www.dnaindia.com/entertainment/report-salman-khan-hit-and-run-case-check-out-twitter-s-reaction-to-bombay-hc-s-verdict-2154165
… prem ratan (bohot saare) trolls payo!
5) Dera Dera Dera Suroor…
Twitter just got drugged on dank with this one! Convicted of rape, the Messenger Of Gawd RamRahim may have lost followers, but gained a lot of troll on twitter.
You don't wanna miss out - http://www.inuth.com/india/no-more-msg-films-twitter-flooded-with-jokes-after-ram-rahim-singh-found-guilty-in-rape-case/
Meanwhile, India gears up for its biggest new-age bromance –
That's right! We're one dank country, aren't we? Ater all, that's how we have learnt to survive amidst all the barrage of bad news that keeps cropping up! *smile*, or as Bear Gryllis would put it,