They - "Fit is not a destination but a way of life."
You - "Eat right, Stay fit and die anyway! Duh!"
They - "Stay fit to not be skinny but to be strong."
You - "What's wrong with me, I don't want to compete with anyone", standing in front of the mirror.
They - " Look in the Mirror, that's your competition."
Are you the 'You' in this conversation; ignoring the many 'They's' who are trying to solicit a positive attitude towards your fitness?  Irked by the daily doses of motivational and inspirational quotes, fitness profiles on Instagram? Then you must be one of the many lazy bugs who doesn't feel like going out for a run, breathe in the salubrious air or feel the zeal of being fit. To compound to the gloom, you have made a permanent abode in your hostel room, scrolling through Facebook and liking Before & After photographs of people, who dared to step out and accepted that they need to be fit. And you are munching those vicious junks as you comment - 'totally inspired, kudos to you', and for you, the inspiration mitigated as you walked away.
We understand you want to be healthy but food is bae, you want to exercise but the bed calls you back and dear lord, the snooze option! No Problem. We have a solution for you. Don't leave your table or bed or room and make it a palette to paint a fit You! Here are 6 exercises you could do in your hostel to stay fit!
Exercises to be done in Bed
1. Marching Hip Raise
Marching Hip Raise is a beginner level exercise. You can do it while lying on your bed. No trouble of spreading that yoga mat on the floor. It basically strengthens your hamstring muscles thereby shaping your butt, thighs, and abs.
For the detailed instructions on how to perform this exercise, visit - MADBODYbeta
2. Side Plank with Twist
Cinch those bulging tiers around your waist and strengthen your quads, abs, and glues with this exercise. To make it easier, rest your top foot on the bed in front of you. Side Planks with Twists helps to shape your obliques and firms your triceps.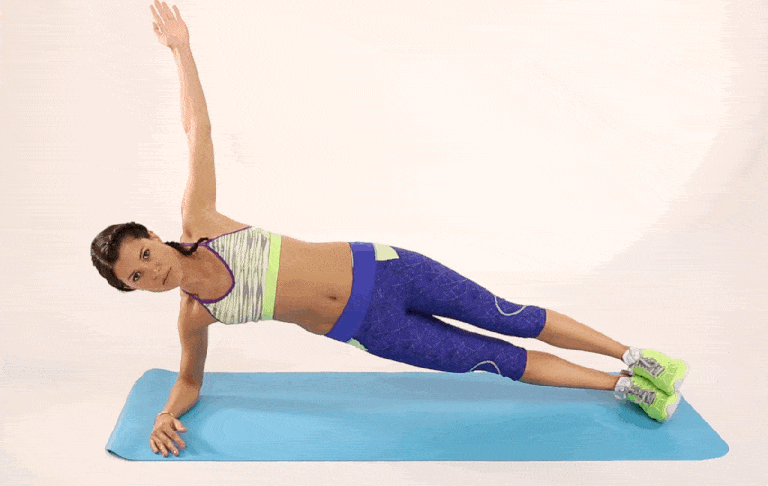 For the detailed instruction on how to perform this exercise, visit - POPSUGAR.Fitness
3. Leg Scissor
Worried about the dress you have to wear for the college fest? Try this simple exercise which will help you to gain thigh gaps. Leg Scissors, is an exercise which helps one to tone their inner as well as outer thighs. Just lie down on your bed, think about a beautiful moment and let the legs do their work.
For the detailed instruction on how to perform this exercise, visit - LiveStrong.com
For more such exercises in bed, watch this interesting video by Self Magazine and welcome the morning with a dash of fitness, health, and happiness-
Exercises to be done in Chair
4. Execute Jumping Jacks
Too lazy to get up from that damned chair? We have exercises lined up for you that you can do while sitting.
Jumping Jacks while sitting in a chair, helps increase the blood circulation, thereby oxygenating the body and making you feel rejuvenated. Feeling excited about the coveted date, next evening?  This is how you can exercise while showing excitement. Hip Hip Hurrah! 
5. Tricep Dip
This is a good exercise for beginners with loose triceps muscles. And you can do this without leaving your room on your favorite chair. The Elbow flexion and extension strengthens the tricep muscle groups. Perform them every day and say goodbye to jiggy muscles as you wave to your friends!
6. Leg Extensions
You do not need the leg extension machines for this exercise. Your chair is perfect. Leg extensions are a key exercise in strengthening the patellar ligament and quadriceps attachment for the knee. It's great for people with pain in the knee joints.  Here's a detailed guide to performing this exercise correctly.
My friend, it's time you take these doses as counsel rather than an insult. It's extremely essential for your personal benefit as a 'Healthy mind rests in a healthy body'. A lazy start to a healthy life will prove fruitful, once you start witnessing changes in yourself. And yes, it's never too late! If you're reading this article on your phone, while lying on the bed, start doing the aforementioned exercises. A healthy diet shall be an icing on the cake.  Share in the comments below if this article helped you reach your goal to commence a fit and healthy life.
Note - Ensure that your body is relaxed while performing these exercises and you get the postures right to prevent any injuries. If you have certain medical conditions, consult your physiotherapist before going further with the regime.