Are you one of those people who at the beginning of every month, promise themselves to eat healthy food, exercise daily and take care of the body? But, after two-three days of following the regime sincerely, all your spirits fizzle out and thanks to the frenetic schedules and sometimes, the lazy us, we forget about it and promise to properly follow the schedule at the beginning of next month. Well, most of us are guilty of making these empty promises and the consequences are ugly.
According to a research conducted on a global level, over two billion people are suffering from health issues associated with overweight and obesity, and a growing number of people are dying from these health maladies. Yikes!
So, when you are living in a world which is getting fatter day by day, it's imperative that you convince your lazy self to sweat it out every day! And, if you are confused about how to get started?
Running, my friend is the answer. Yes! Running! It's simple and anyone can do it.
Quick Fact: 26 bones, 33 joints, 112 ligaments, and a network of nerves, tendons, and blood vessels, in the feet have to work together when you run!
Below are twelve reasons, that will definitely send you running on your way:
1. Run Your Worries Away
Most of us are so entangled in our daily lives and stressed out that the mere idea of a gym session sends our mind into dizzy. But, running doesn't put any pressure on your mental health. Instead, it helps fighting mental issues like anxiety, Alzheimers, and depression. And, all you need to do is put your one foot in front of the other and breathe.
2. Cheap
Kiss goodbye to your expensive gym membership and that super expensive workout equipment. You just need to invest a little in a nice, comfy pair of running shoes and you are good to go. Here is a quick guide to help you choose the perfect pair of running shoes.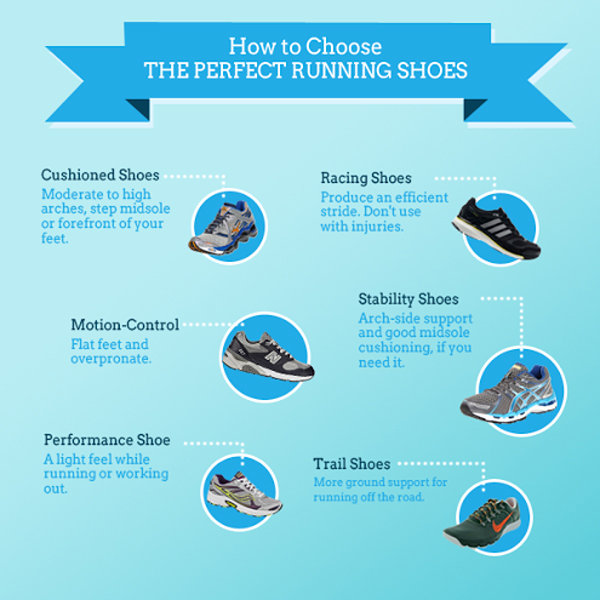 So, save yourself some good bucks and go for a run without worrying about breaking your bank balance.
3. Do it Anywhere
Running is definitely one of those rare exercises, which you can do anywhere and doesn't demand fancy infrastructure. It gives you a chance to move out of the four walls of your home and go out give some fresh oxygen to your lungs.
4. Go Socialize
Well, who said you need to run alone? Shut off your Facebook and Twitter for a while and go meet some real people and make some real friends while running. You can even join or form a running club with your 'run pals' and guide as well as encourage others to do it too.
5. Burn Crazy Calories
An extensive study performed by researchers at Syracuse found that men bust around 105 calories on an average running a mile in 9 mins and 30 secs whereas the women in the study, almost burnt 91 calories for the same time span. Although, metabolism plays a key role here, still burning calories equal to a half cup of ice-cream in less than ten minutes, isn't bad at all!
6. Combat Diseases
According to a study done by British Journal of Sports Medicine Study, people who do any kind of aerobic exercise for minimum five days a week have 43% less chance of getting respiratory diseases compared to those who don't do it at all. Experts say that a daily 30-minute run can help combat common cold even before it starts showing symptoms.
7. Take your furry friend with you
Guilty of not spending enough time with your dog? The furry being cannot accompany you to your gym, but, you can take him along on a run with you and dogs are great runners, thanks to their bone structure and they enjoy running. So, both of you go and hang…run out together.
8. Do it Anytime
Who said you cannot run once the park is closed? You can run at any time be it 5 in the morning or 5 in the evening it doesn't matter. Just, go out on the street and run along on the route of your liking.
9. Live Longer!
Run along to live along! Yes, this is very much true. According to a study conducted by Archives of Internal Medicine on about 1,000 adults, ages 50 and above for 21 years, found out that only 85% of the runners were alive whereas 66% of the non-runners had kicked the bucket.
10. Eat More Carbs!
Who said you have to give up your love for fries and pizza?
As carbohydrates are runner's fuel for running, you can relax and still munch on those delicious fries and pizza that you like but do it in moderation as the excess of anything is bad.
11. 6/6 Vision
Running not only burns those crazy calories but also, reduces the chances of having any vision related illness like cataract,
age-related eyesight loss, and even blindness. As per a research printed in Medicine & Science in Sports & Exercise, claimed that people who run an average of 5 miles or more a day have 41% lesser chances of developing any vision-related diseases.
12. Jam it Up!
Put those headphones on and blast your favourite tracks while you are burning those crazy calories away. Play those upbeat and high on bass tunes, to boost your mood. A recent study done by the University of Northwestern confirmed that music can make one feel powerful. Well, what better way to show you power than going for a long run?
"Now if you are going to win any battle you have to do one thing. You have to make the mind run the body. Never let the body tell the mind what to do. The body will always give up. It is always tired in the morning, noon and night. But the body is never tired if the mind is not tired."
— George S Patton
This motivational quote will definitely make you leave your seat, put on your sneakers and go out for a much-needed run!