FEATURES TO ESCALATE YOUR EVENT
Amplifying your Event has just become easier with the power to your squad.
Place Your College Event Where it's Most Visible
Feature your event here and showcase to the right audience. Promote and Expand your Event. Sell your tickets. Engage in
the cool fests and workshops around you. Oh, and TheCollegeFever is Social Media integrated too !
TICKETING MADE EASY AS A-B-C
Smooth registration process with payment gateway. Register now or create your own event !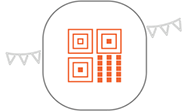 PAPERLESS TICKETING
QR Code integration on the tickets provided and no person-to-person checklist maintenance on event day !
HASSLE FREE ATTENDEE MANAGEMENT
Data Analytic, Registration details, Participants count, revenue flow-forget worries about them !
TheCollegeFever is Designed to Simplify The Way You Organise Your College Event
Know The Numbers. Get Event Analytic & Report
Understand your event visibility, numbers create a successful event
Bring TheCollegeFever into Your Campus
Get maximum visibility for your college event