~
7 tips to smoothly metamorphose into the corporate setting.
'So no one told you life was gonna be this way?' (Clap! Clap!)
The transition from a carefree college student to seamlessly fitting into the corporate environment is a topic less touched upon. You must have heard your placed seniors bitch about their bossy managers, nine-to-five workdays, no more summer vacation or how tired they are being the good egg of the team. But frankly, the reality cannot be hidden under those placid faces, terribly missing the insouciant college life.
College life in many ways stands on oppugnant terms with corporate life. You might have many questions and inhibitions as to what might happen once you step out of the safe cocoon and face the blare and glare of this new life. Preparing yourself well in advance will definitely help you in the corporate metamorphosis from a wild and free college student ready to take up challenges as a part of growing up.
Here's some advice for your smooth transition into the professional world!
1. FOSTER SKILL DEVELOPMENT:
 'Become skilled to get employed,
Update skills to stay employed.'
If you really wish to thrive in the ever-evolving industry, acquire skills and update them as the job demands. Right from the penultimate year, start enhancing your computer skills; indulge in volunteering activities to hone your soft skills; work on your research capabilities and opt for internships during vacations to get a real-time corporate experience!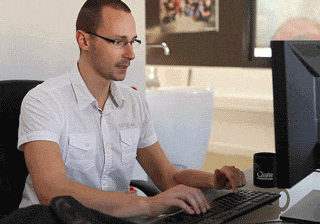 2. PUNCTUALITY:
In college, you could snooze and snooze that damned alarm till it is five minutes to 9:00 am and with a hint of perfume hither and thither over that spoilt shirt, you somehow would reach the class well before attendance. No one cared, not even the professors!
But professionalism is directly proportional to punctuality. Want to be in the good books of your Boss and colleagues? Follow the clock by heart. Make sure to leave your abode well before the requisite time. The calculation shall include all the issues that could arise on the way – you missing the bus, a traffic jam or every rickshaw wale bhaiya rejecting your plea!
3. SAY NO TO PROCRASTINATION:
Last minute college assignment? Done.
Last minute project submission? Done.
Last minute test preparation? Done.
With the clients depending on your performance and quality of work, you cannot afford to procrastinate! The deadlines have to be met and with dire consequences. Use every bit of the time at the office to finish the assigned task so that you can go home and relax after a tiring day.
4. MONITOR YOUR SPENDING PATTERN:
It will be Eureka moment to get a notification of your account being credited with the salary at the end or beginning of every month. Being a spendthrift in the initial months shall satiate your desires.

The dates to pay the bill of your expenses will have scurried all over the calendar. Don't freak out! You need a Plan. Keep aside at least 5% of your income for investment, pay your expenses and keep a tab on your spending. Don't just spend your money, spend it smartly!
5. ATTITUDE:
Remember: Gone are the days when you could throw tantrums and be whimsical.                                       
It will not be easy working under a taskmaster whose only care in the world is to juice out all your potential to the max! Making attitude adjustments accordingly can take you a long way in the corporate sphere. Ensure that you are attentive at meetings, take criticism constructively and speak as much as required.
6. DRESS THE PART:
During college one likes to experiment with hair, makeup and style of clothing. But at the corporate setting, your dressing sense must resonate with the work culture there. Do not dress to impress, just dress the part.  Here is a link to a few tips on how to change your wardrobe for the same by Fashion Blogger Sejal Kumar:
7. THIS ISN'T YOUR LAST JOB:
It's often the case that you do not land your dream job in the first instance.Sometimes it's better to grab opportunities and experience the spectrum of corporate shenanigans! Every experience only makes it better. If you want to switch to another job, ensure you do not keep shifting every 2-3 months. You will become a three-day monk in the eyes of recruiters. Once you step into the business, you will come across various fields you were oblivious of. Work for it and move on!                                               
You must have had shudders down your spine every time you moved out of your bubble! It's not gonna be easy, but with genuine and advanced efforts you will adjust to the dazzling world with the ticking clocks; the morning coffee; the office politics and the harsh reality where moving up is the only goal at the cost of anything and everything.
Before you think of scrolling to our previous articles, thinking it was enough of a visual to the future, just walk up to the mirror and say